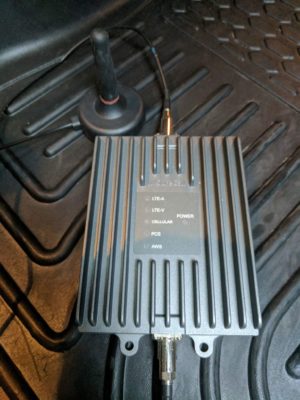 Many of us in the storm chasing community are always looking for better ways to improve our mobile internet capabilities.  This has been achieved in different ways in the past few years by using Mifi's or Jetpacks located on the dash, external antennas and cell boosters that claimed to "boost" signal. Back in the early days of cellular boosting,  boosters were able to be connected to devices directly through the use of antenna ports on cell phones, mifi's, etc.  Those days are long gone.
We have since been using "wireless" boosters with very mixed results until now.  The SureCall Fusion2Go 2.0 Cellular Signal Booster seems to eliminate the headaches of traditional "wireless" boosting solutions.  This booster "self-attenuates" which is a welcome blessing to previous units.  The problem with older units was that they always had problems with oscillation because there was never enough vertical and horizontal separation of the internal and external antennas because of the limited space of the vehicle. Also of note, cellular boosting companies have went through a total revamp of their boost devices due in part to the FCC rules pertaining to these boosters.  The power in which these boosters were running had to be modified so as to not cause interference with the cellular towers.
This booster will work with all US carriers and has the correct LTE Bands to support them as well. This will also boost traditional voice and text networks in addition to the LTE bands. Also of note, the booster itself is of a rugged, all metal construction and the supplied external antenna comes with a very wide and strong magnetic base so the worry of the magnetic antenna leaving the vehicle in those strong inflow winds is not a worry anymore.
In my testing, I have found the boosting of the RSSI (the raw signal strength level) to increase the signal strength to as much as 20-30 dbm gain.  As you can see in the picture below, the signal is boosted to a -58 dbm (the lower the number the better with -54 being about the best signal you can get).  Without the booster on, the signal drops to around -84 dbm. As with any booster, you have to have some signal to boost it, no signal at all can be boosted.  What the booster will do is give you faster download speeds and improve your upload ability when trying to get that money shot to the networks. Also, the closer the device is to the internal patch antenna, the better your boosted signal will be as well.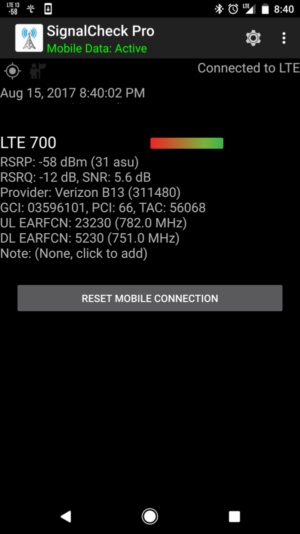 Below are some of the specs from there website listed below.
Boosts voice, text & 4G LTE signals for all North American cell carriers
Reduces dropped and missed calls
Increases signal strength & extends battery life for all cellular devices
Improves 4G LTE data speeds and connectivity for more miles of uninterrupted coverage
Automatically optimizes gain ensuring the booster is always operating at maximum performance
No cradle or docking station required
Sets up in minutes – simple plug-and-play install
Kit Includes:
Fusion2Go 2.0 booster, magnetic roof-mounted antenna, interior patch antenna (with Velcro mounting tape) and standard 12V DC power adapter. *Kit also includes a free magnetic phone mount.
Booster Specifications:
| | |
| --- | --- |
| Uplink Frequency Range (MHz): | 698-716 / 776-787 / 824-849 / 1850-1915 / 1710-1755 (G Block Included) |
| Downlink Frequency Range (MHz): | 728-746 / 746-757 / 869-894 / 1930-1995 / 2110-2155 (G Block Included) |
| Supported Standards: | CDMA, WCDMA, GSM, EDGE, HSPA+, EVDO, LTE and all cellular standards |
| Input/Output Impedance: | 50 Ohm |
| Maximum Gain: | 50 dB |
| Noise Figure: | ≤5 dB |
| VSWR: | ≤2.0 |
| Gain Adjustment: | 20 dB (Automatic) |
| DC Car Charger: | 6-15V |
| Maximum Output Power: | 1 Watt EIRP |
| Cable: | RG-174 |
| Exterior Antenna Cable Length: | 12.5 ft |
| Interior Antenna Cable Length: | 10 ft |
| RF Connectors: | FME Male (both ends) |
| Power Consumption: | <10W |
| Dimensions: | 5.625″ x 4″ x 1.125″ |
| Weight: | 1.43 lbs |
I would highly recommend this booster as it seems to overcome the past hurdles of oscillation of the unit and actually shows a drastic improvement in signal strength.
These units are available at the following address.
https://www.surecall.com/signal-booster/vehicle/FUSION2GO-2/
[avatar user="admin" size="thumbnail" align="left" link="file" /]
[author_info]Steve Polley is a 14 year storm chaser and also the owner of MesoExtreme Media Productions LLC. His interest in severe weather began at an early age of seven when a grain bin partially collapsed a truck that he was sitting in. Since then, he has been fascinated with all facets of severe weather from large hail and tornadoes, to ice and snow storms. Steve is also a member of the KAKEland Stormchasers of KAKE-TV in Wichita, KS and KKTV-TV in Colorado Springs, Colorado. You can also follow Steve at supercellnut on Twitter. Steve's work has been featured on many local and national media outlets such as the Weather Channel, Good Morning America, CBS This Morning, CNN, KAKE-TV, KSNT-TV, KQTV and KKTV.[/author_info]
Review of the New SureCall Fusion2Go 2.0 Cellular Signal Booster